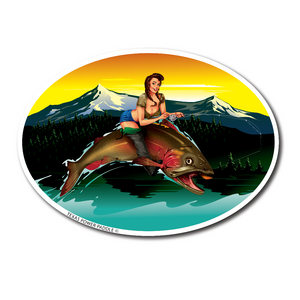 Introducing Trixie- our newest  Alpine Adventure brand ambassador!  Sure to be a head turner on the bow of your kayak, boat, or truck bumper at any tournament or outing.  
Cutout Decal can be applied anywhere that you have a smooth clean surface- prep surface using alcohol wipe and allow decal to cure overnight.  Apply gentle pressure to surface to promote adhesion.
Pro tip-  a list misting of Windex onto the surface before applying the larger decal will give time to move the decal around and find the perfect position.
3" x 5" in